There's many factors to consider when taking headshots, both on the subject side and on the photographer side. These range from lighting, background, colors, and more. You always want to make a great impression to anyone new you come across, especially in your professional environment. Having a good headshot means it is clean, well lit, and natural looking. Here are some general guidelines for your headshots.
Photographer Considerations
As the photographer, the main things to take into consideration are lighting, location, composition, and post editing.
We want as much natural light as possible. This way, what the audience sees in photos is what they see in person. A nice overcast doesn't always work in our favor, and we need to accommodate for different lighting scenarios. If an outdoor shoot isn't feasible, we must move indoors. Our lighting options change and we want to switch to a softer warm light if possible. We never want bright florescent lights in the subject's face.
Our location matters because we do see background and certain surroundings. Some companies prefer a blank wall for a clean look. While others prefer greenery for a more creative take. Whatever it may be, make sure that everyone within the company has a similar background for consistency, especially if these photos are going onto an "About" page on your company's website. We want to make sure the background is simple and doesn't overpower the subject.
Choosing the best composition when shooting headshots are key. Make sure the subject is balanced within the frame. We want good ratios of the subject within the photo. Typically we want to make sure that the headshot includes the subjects upper body. We recommend against cropping the frame where joints exist on the body, otherwise it creates disruption in the composition. For example, if the subjects arms are by their side, we never want to have the frame cut off at their wrists right before their hands.
Keeping the photo editing simple is incredibly important so we show the most natural versions of the subject. We understand lighting sometimes needs some fixing, or needs more warmth, but be cautious of how much saturation you are adding or contrast. We don't want the subjects to look washed out, or any shadows to be too harsh.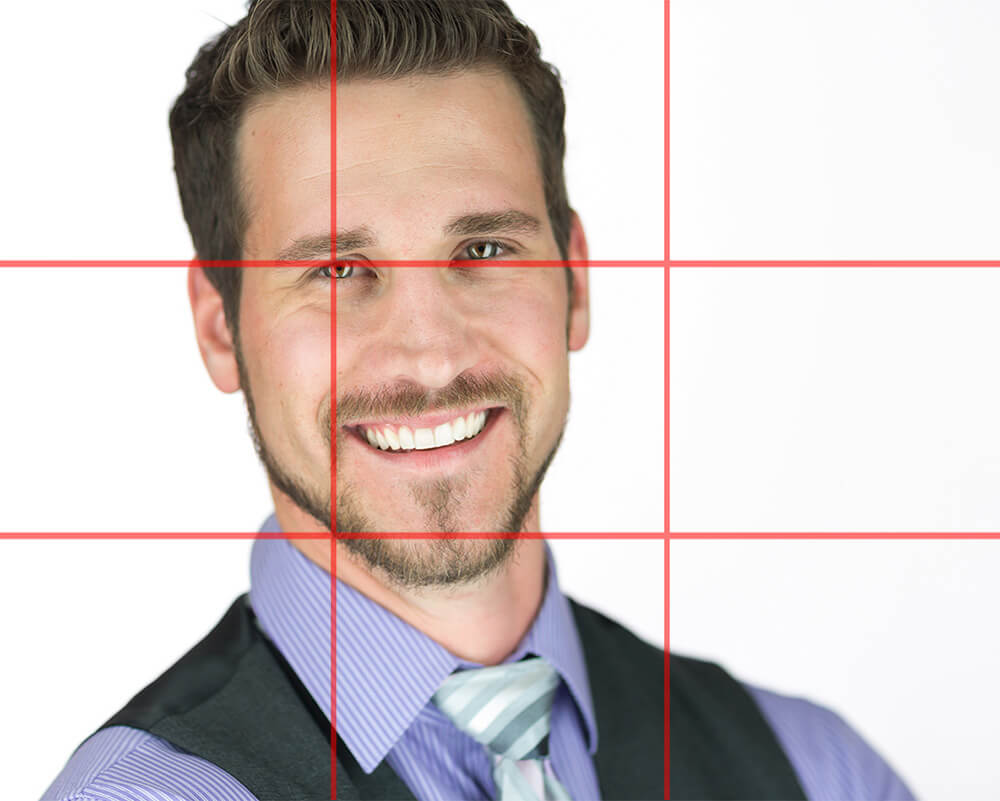 Subject Considerations
If you are the one getting your photograph taken, there's some areas of you to keep in mind so you can help your photographer deliver the best headshot. These can include wardrobe, hair, and makeup.

Your choice of outfit should be heavily taken into consideration. We generally want nice neutral colors. We recommend against any attire that have loud patterns or colors, as these can be distracting to the eye. If you are aware of what colors pair well with your skin tone, these colors will be advantageous. Your hair and makeup should look as natural as possible. We want headshots to reflect who we are as people everyday. Ultimately the key here is to wear something you feel confident and professional in.
There are many considerations to take in mind when taking headshots, whether you are the photographer shooting the headshot or you are the subject getting your photo taken. Following these headshot guidelines and being mindful of these areas on both ends will ultimately give great results.
If you would like help with photos and headshots, feel free to contact us. We offer a variety of services like digital marketing & analytics, marketing & brand strategy, and more to small and large companies.